Last week the temperature at my office dropped dramatically. Summer is officially over now.  It was rainy, cold, and windy. And the worst was as electrical shut down.
My shoulders suddenly felt sore and cold. Luckily, I had a Bio Heating pad that can be used to relieve shoulder pain.
I put the bio heating pad in the microwave for 3-4 minutes and slipped it into a soft textile cover.  After heating the pad in the microwave, I placed the heating pad on my shoulders and wow…..it felt great.  I felt a very warm feeling.
This Heating Pads Feels Soo Warm…What a Great Relief
I felt shoulder relief immediately. The Bio Heating pad stays warm for at least an hour.
This heating pad is great for office workers, especially for those working on the computer all day. The heat relaxes and relieves your stiff shoulders.
I like this heating pad because I can walk around my office while wearing it on my shoulder. There's no hassle with  wires and cords. I have complete cord free mobility with the Bio Heating Pad.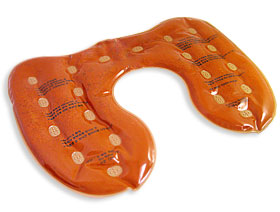 No related posts.
Sep 28th by Fit Gizmos